By Rhonda Campbell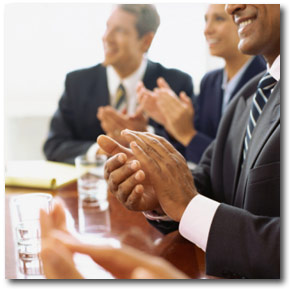 One of the hardest lessons you may learn as a new small business owner is that customers do business with you because they think you can give them what they want. It's your job to raise your customer satisfaction levels. It's your job to give customers what they, not you, want. If you're a creative small business owner this lesson might come as a bit of a shock. After all, you spend your time developing products you think are phenomenal. Before long you're so convinced your products are the best of their kind on the market that you cannot be deterred from thinking that everyone else will automatically agree.
Finding Out What Raises Customer Satisfaction
You can avoid this type of delusional thinking if you giveaway samples of your business products then ask people who sample the products to share their opinion about the products with you. For example, you can ask consumers if they would spend money to buy the samples, how frequently they would buy the items, what they like most about the products, what they like least about the products, etc. Major motion picture studios do it all the time before they release films for viewing by the general public. In other words, take the time to find out what people want; measure customer satisfaction. Don't guess at it. Find out for sure.


If your business is service oriented, you can test the market by inviting people to use one of your services for a free 30-day trial. Watch late night television and you're bound to see one or more of these types of customer service ads. Companies use these types of ads because they work. Furthermore, feedback you receive from consumers can offer you clues on steps you need to take to improve on future products and services, which can help you as you continue improving customer satisfaction.
Listen to feedback customers give you on customer satisfaction surveys with an open mind. Responses you receive can help you learn how to increase customer satisfaction. Avoid the habit of defending what you created or developed. After all, customers shop with you because they think you can give them what they want. That might mean that customers think your products and services can save them time, make them feel certain welcomed emotions (e.g. joy, happiness, confidence) or help them to generate additional income. Watch any automobile or cologne TV commercial, and you'll see how regularly established firms appeal to customer emotions.
Improving Customer Satisfaction Metrics
As you and your staff develop new products and/or services, focus on creating small business products and services that help people improve their lives, making their lives easier. For example, if you own a pet store you could develop a product that allows pet owners to bath their pets in a portable walk through shower that can be used indoors or outdoors. In addition, as a service oriented company, you should always focus on providing people with the information they want, information they can access quickly and easily. You can do this by designing and selling ebooks, workshops, online training videos, motivational tapes, etc.
Whether you realize it or not, as humans we all know each of us has a talent or skill that, when properly used, can bring improvement to one another's lives. The fact that we buy and sell from each other is proof that we know we've got the goods. Regularly review customer satisfaction metrics. Find out what masses of other people want, give it to them and watch your sales go up.
If you enjoyed or benefitted from this article, share it with others by clicking the Twitter, Facebook, LinkedIn, Google Plus and Share buttons below. You bet!  We appreciate it!  
Get Your Copy of Spiral at https://www.ebookit.com/books/0000000841/Spiral.html