MEET Diane Linston:  Diane Linston is a faithful believer, a risk taker and a visionary. She is also one of the most talented fashion designers in Ohio. She has been advancing her Styles of Imagination (http://www.stylesofimagination.com) fashions for years. Her company is the only African American female manufacturing company in the Cleveland/Maple Heights area. Diane Linston's designs are elegant, trendy and attention getting. For her work, Diane earned a feature in the 11th anniversary edition of "Who's Who in Black Cleveland".
She has been featured in more than 20 magazines and has appeared on several television shows. She keeps her eye on the prize. Two medical setbacks couldn't stop her. This powerful business owner and fashion designer has worked with movers and shakers like actress, Jazmin Lewis; the mother of internationally renowned singer, John Legend; The Real Housewives of Atlanta,  Dwight Eubanks and mayor elect, Annette Blackwell. Keep reading to find out what inspires Diane, how she started her business and what she does to get the word out about her designs.
WMI:    What were you doing before you founded Styles of Imagination?
DL:        I was working in retail as an assistant merchandise planner with Things Remembered. I had just graduated from Virginia Marti College of Fashions & Art with a degree in fashion merchandise & fashion designs. After a year of working at Things Remembered, I felt that it was time to branch out on my own.


WMI:    Tell us what inspired you to start your business?
DL:    I have worked in many retail stores throughout my career. I worked at Saks, Lane Bryant, Paul Harris and WalMart. I know how to operate a retail store. I know how to merchandise a window. I was traveling to different events as a vendor, selling my clothing. That's when I knew that it was time to start my own fashion company. I found a storefront less than five minutes from my home. It was in the right location.
WMI:    Fashion isn't an industry that you can run a business in totally on the Internet. What was the process like of starting your own fashion company?
DL:       If you plan to have a brick and mortar store, you need to have a visible location where there is enough parking. It needs to be a location that customers can find easily. If you have a nice sized window, you need to make sure that your window is merchandised well. If you don't know how to merchandise your window, seek an intern from a fashion college to help. Merchandising your window is very important. Keep in mind, that you need to put money aside for advertising. You can have the best boutique, but, if no one knows you're there, it's useless.
To get the word out about my fashion company, I passed out fliers at a nearby grocery store.
WMI:    Do you work runways, create designs or do you make clothes based off of specs that designers send you?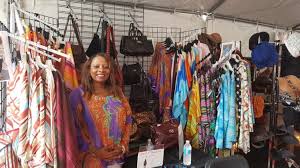 DL:   I am the fashion designer. I design and create my clothing. I have a staff. We do everything from making the pattern to sewing the sample. Then we go into production to get the orders into other boutique stores.
WMI:    You've faced life challenges. How do you stay motivated and keep your business going when you're dealing with health challenges?
DL:      Yes; I have faced many health challenges. What people don't know is that I live with Teflon on the left side of my head. I have a severely damaged nerve that cannot be repaired. I had what is called trigeminal neuralgia. This is a disorder that effects 1 out of 15,000 people each year. (How could I have been so lucky). I had brain surgery in 2011. The nerve was so damaged, it caused one of my arteries to get wrapped around my blood vessel.
As I am writing this, tears are rolling from my eyes. I thought about taking my life, because the pain was so horrible. I told the Lord that if I was given quality of life again that I would tmake a difference in this world. I have not let the Lord down. I pray every day as  I speak with God. Then, I meditate as I allow God to speak with me and give me direction. You have to believe with a positive attitude. I am passionate about what I'm doing. I eat, sleep and drink my dream. I speak it into the universe.
WMI:    Congratulations on opening your showroom in 2015. What was that process like?  
DL:       Thank you. It seems like there's not enough time in the day. It was hard finding good help.  The demand became overwhelming. It was as if we couldn't create enough merchandise within the day. Things were selling that fast. I'm also on the road a lot.  I have to make sure that everything is in order before I go out of town. I developed a production line to make the creation of the clothing flow easily. It's been a year and things are still crazy.
WMI:    What is the N.G.U. collection and who are these designs for? 
DL:        N.G.U. means Never give up. My collection is for the women who dare to dream, the women who will never give up. I cater to the lady with class and style, a woman who has confidence. N.G.U. is for women who want to be seen
WMI:    How were you able to get the N.G.U. collection in 15 stores across America?
DL:        I started to do trade shows like the Atlanta Mart. I would Google boutiques that I thought would be interested in selling my clothing. In the business, this process is called "going fishing," fishing for new clients.
WMI:    Who are some of the designers you admire?
DL:       Kimora Lee Simmons, Gianni Versace, Pierre Cardin  and Patrick Kelly. If you're looking at the KS /GV collection back in the early 90's — OMG – their collection is totally me. The Pierre Cardin collection back in the 60's was something futuristic. I have been told that some of my designs are futuristic.
WMI:    Social media networks, press releases, interviews, etc. provide a myriad of marketing opportunities. Share three to four specific marketing strategies/action steps that small business owners can take to get more exposure for their products.
DL:      If you're working on a shoestring budget like me, you might have to be your own PR person and create your own press releases. Reach out to your local newspaper or local magazine. Send them a press release. Let them know that you have a story to share. Local media is always looking for a good story. If there is a local TV talk show in your city, send them a press release. They might schedule you for an appearance. Also, social media is the thing right now. Post about your business on social media. Every business should have a website.
Create an email marketing list. Let your customers know what you are doing. Keep them up date.
WMI:    To keep your business going, you have to generate cash inflow. Tell us about two to three effective cash inflow generating strategies you've found effective.
DL:      I get a lot of sells through my Facebook page. If you can't afford a storefront, a website is a must. I also sell my N.G.U. Designs by Diane Linston on Amazon.com and do very well. I have heard that Etsy works from some people. Additionally, look for local spots to set up your merchandise. For example, you can call your local hospital, church, etc. to introduce your fashions. And search for women conferences on line. Another resource is Event Brite.


WMI:    What's next for Diane Linston? Where do you see yourself and Styles of Imagination three to five years from now? 
DL:       Styles of Imagination plans to be in about 20 more stores in the United States within five years.