By Rhonda Campbell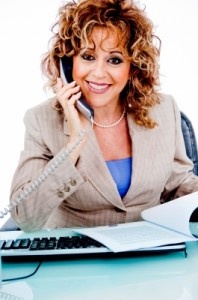 A salesperson can earn more than $80,000 a year, especially a sales person who introduces prospective customers to scientific and technical products. Another perk a salesperson enjoys is the opportunity to travel. However, considering the nerve necessary to succeed at selling, these and other perks still aren't enough to entice some people to enter the career field. A good reason for this has to do with cold calling.
Sure; it can be intimidating to pick up the telephone and call one stranger after another, highlighting product features, asking them about their greatest wants or negotiating with them, hoping to get them to invest more of their time in you as you schedule a follow-up call or in-person meeting with them. But, fears must be pushed aside.


Point is, without cold calling, bottom lines don't elevate. Whether you're thinking about using cold calling to stimulate sales, stop losses or boost exposure for a new product or service, you could benefit from cold calling. To improve your cold calling results:
Create a list or database that includes contact names, telephone numbers, email addresses and two to three prominent interests contacts have.
Outline key points you're going to cover with respondents before you pick up the telephone.
Stop taking 'no' personally. There could be a range of reasons why you hear 'no'. For starters, people who turn down your offers may simply not be interested in the types of products or services you're selling. You also might have caught a person at an inconvenient time (i.e. they just stepped out of the shower, their food is burning on the stove).
Find a mentor, someone who has five or more years of experience cold calling successfully.
Work to build rewarding relationships with people you cold call, offering them tips, free advice, three or more ways to contact you, etc.
Set a date and time to connect with the person within the next two to three days, providing them with more details about your products and services, including how using the products and services would improve or enhance their lives. If contacts prefer not to be telephoned, ask them if you can follow-up via an email, or again with an in-person meeting.
Highlight benefits specifically related to your products and services.
Stay honest, even if answering a question reveals risks associated with products or services you're cold calling to sell.
Be straightforward.
Ask thought provoking questions, ones that help you unearth a person's deepest desires, wishes and dreams.
Point out how products and services you're cold calling to sell could help people fulfill their deepest desires, wishes and dreams.
After taking each of these and other steps, it's important to keep in touch with respondents, again establishing a rewarding relationship with them. Listening, informing and educating, versus selling, are constant actions you should take during the entire cold calling process. The payoff could be huge.
If you enjoyed or benefitted from this article, share it with others by clicking the Twitter, Facebook, LinkedIn, Google Plus and Share buttons below. You bet!  We appreciate it! 
Click the "Subscribe" button at the side or bottom of this post so you can always be the very first person to receive our updates!
Get Your Copy of Spiral at https://www.ebookit.com/books/0000000841/Spiral.html